Karin presents her poster at the ICMRBS conference in Ireland, August 2018
Marlyn's thesis defense and party – May 4, 2018
Crowhurst lab group – Spring 2018
L to R: Dane Geddes-Buehre, Lannah Abasi, Sayuri Pacheco, Mackenzie Russo,
Julie Jimenez, Jonny Benson, Marlyn Widjaja, Karin Crowhurst
(Sayuri had the audacity to wear a sweatshirt for another lab to our photo shoot,
so we taped a Crowhurst Lab mousepad to her chest to cover it up!)
Lannah and Jonny at CSUPERB 2018
Lannah and Jonny present their posters at the CSUPERB Symposium, January 2018
Crowhurst group – Fall 2017
L to R: Eddie Surinarintr, Jonathon Benson, Marlyn Widjaja, Karin Crowhurst,
Julie Jimenez, Sayuri Pacheco, Lannah Abasi, Dane Geddes-Buehre
Crowhurst group – Spring 2017
L to R: Jonathon Benson, Marlyn Widjaja, Sam Mahdi, Julie Jimenez,
Karin Crowhurst and Jafaeth Gomez. Front: Eddie Surinarintr
Sam at the CSUNposium 2017
Sam presents his award-winning poster at the CSUNposium, April 2017
Crowhurst Lab members at CSUPERB 2017 in Santa Clara CA
Eddie, Julie, Marlyn and Karin at the CSUPERB 2017 banquet dinner
Julie at CSUPERB 2017
Julie presents her poster at the CSUPERB Symposium, January 2017
Eddie at CSUPERB 2017
Eddie presents his poster at the CSUPERB Symposium, January 2017
Marlyn at CSUPERB 2017
Marlyn is shown in action, presenting her poster at the CSUPERB Symposium, January 2017
Crowhurst group – Fall 2016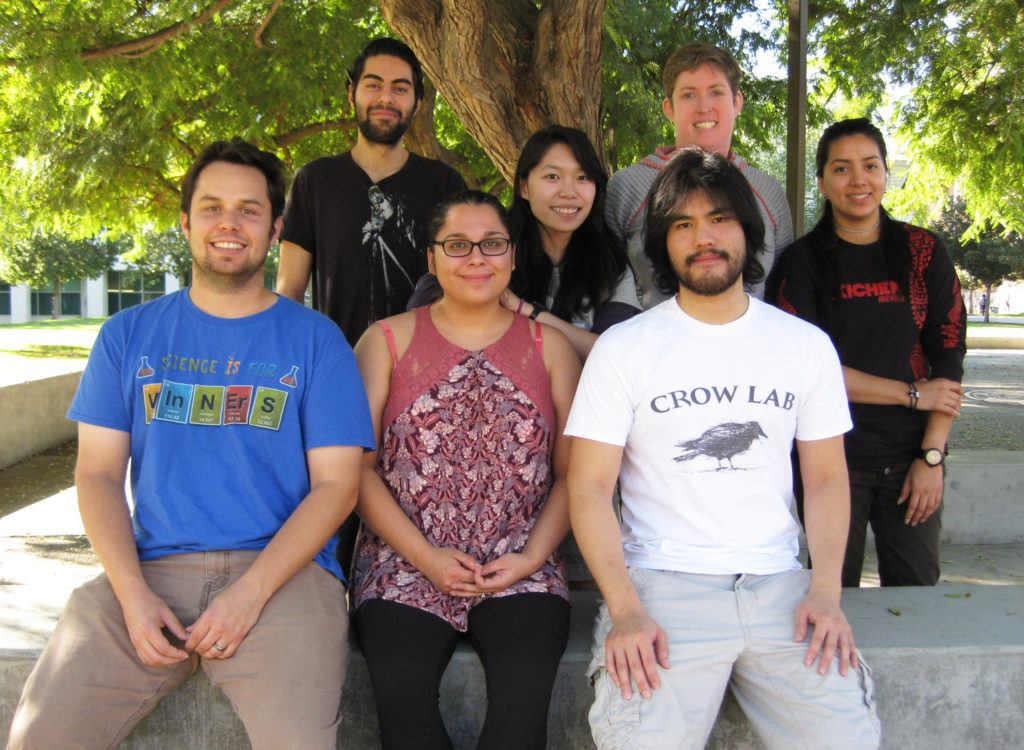 L to R: Jonathon Benson, Sam Mahdi, Julie Jimenez, Marlyn Widjaja,
Eddie Surinarintr, Karin Crowhurst, Jafaeth Gomez
Crowhurst group – Spring 2016
L to R: Julie Jimenez, Sam Mahdi, Shayla Brooks, Karin Crowhurst,
Marlyn Widjaja, Eddie Surinarintr, Jafaeth Gomez
Eddie at CSUPERB 2016
Eddie presents his poster at the CSUPERB Symposium, January 2016
Marlyn at CSUPERB 2016
Marlyn presents her poster at the CSUPERB Symposium, January 2016
Sam at CSUPERB 2016
Sam presents his poster at the CSUPERB Symposium, January 2016
Crowhurst group – Spring 2015
L to R: Eddie Surinarintr, Sam Mahdi, Jafaeth Gomez, Marlyn Widjaja,
Shayla Brooks, Karin Crowhurst, Julie Jimenez, Armine Harutyunyan
Shayla at CSUPERB 2015
Shayla presents her poster at the CSUPERB Symposium, January 2015
Jafaeth at CSUPERB 2015
Jafaeth presents her poster at the CSUPERB Symposium, January 2014
Crowhurst group – Fall 2014
L to R: Sam Madhi, Julie Jimenez, Eddie Surinarintr, Karin Crowhurst,
Jafaeth Gomez, Shayla Brooks and Armine Harutyunyan
Commencement 2014
Karin poses with Lusine and Madelene before their commencement ceremony
Departmental graduation party 2014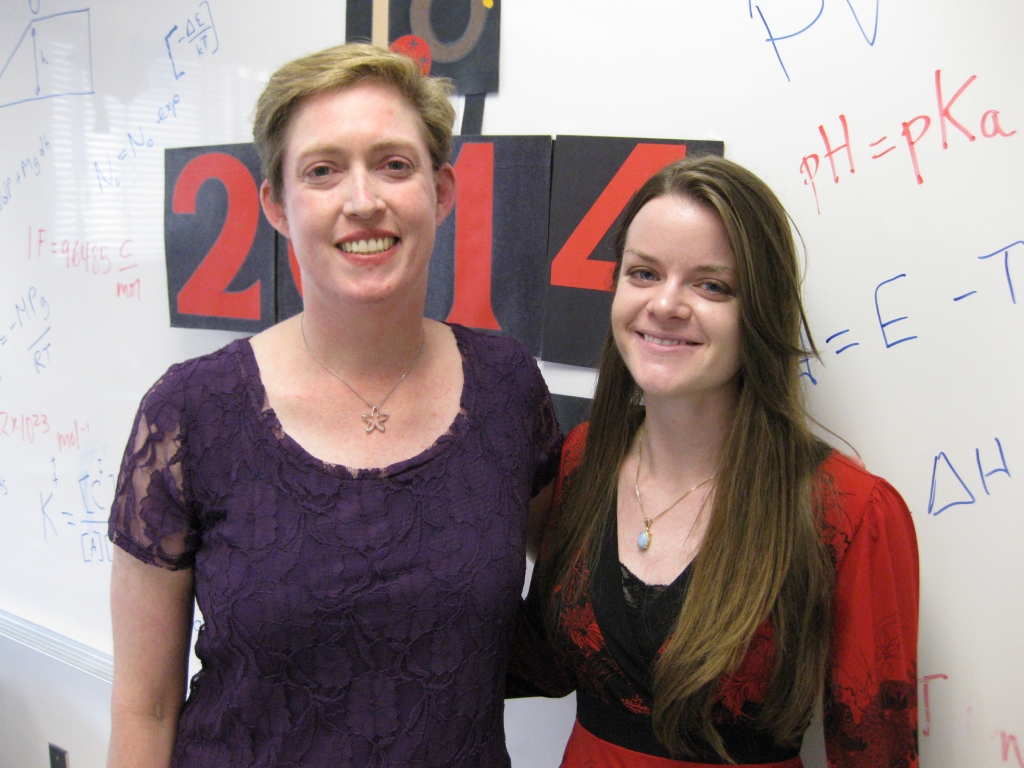 Karin and McKinzie at the departmental graduation party after McKinzie won a ton of awards
Crowhurst group – Spring 2014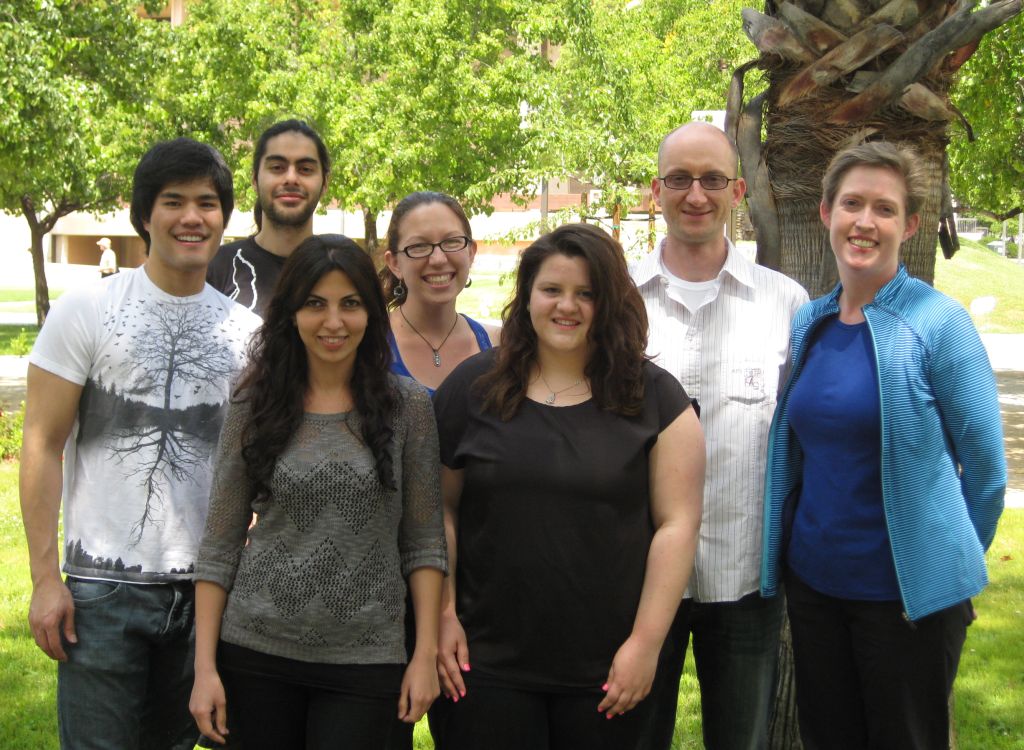 L to R: Eddie Surinarintr, Sam Mahdi, Lusine Simonyan, Shayla Brooks,
Madelene Chaaban, Jan Maly and Karin Crowhurst
Trip to NMRFAM – March 2014
Shayla poses with the space-agey 900 MHz spectrometer at NMRFAM
Trip to NMRFAM – March 2014
Shayla inserts her sample into the 900 MHz spectrometer
Lusine at CSUPERB
Lusine presents her poster at the CSUPERB Symposium, January 2014
McKinzie at CSUPERB
McKinzie presents her poster at the CSUPERB Symposium, January 2014
Crowhurst group – Fall 2013
L to R: McKinzie Garrison, Shayla Brooks, Jan Maly, Madelene Chaaban, Karin Crowhurst, Lusine Simonyan
Lab dinner – Fall 2013
For our group dinner we had delicious Chinese food at the small local restaurant, Tampa Garden.
Keen stopped by to join in, taking McKinzie's chair (because she was too sick to come).
Jan successfully defends his thesis
We had a little party to celebrate Jan's accomplishment, July 1 2013.
Keen defends his thesis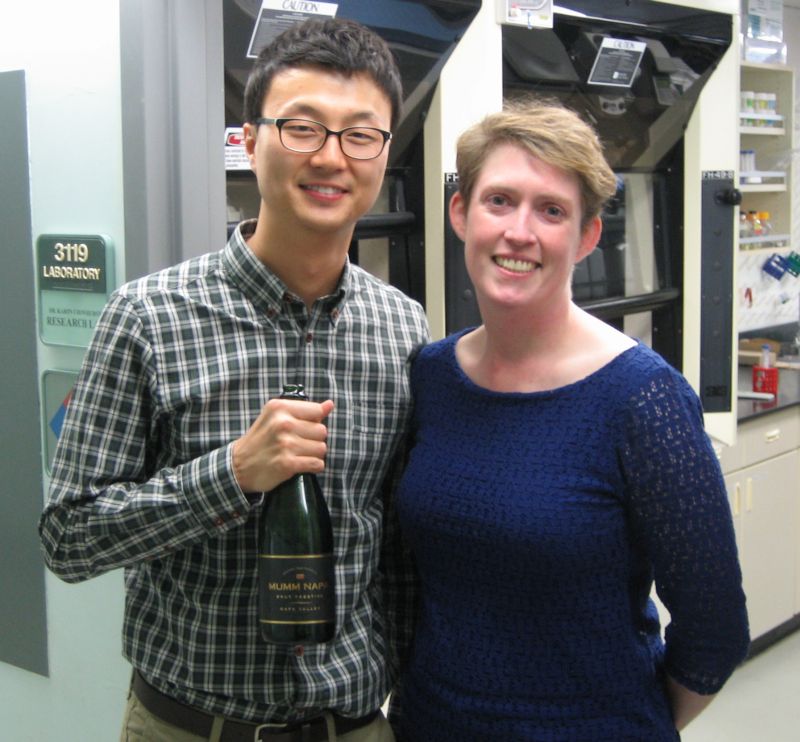 Keen and Karin celebrate after Keen's successful thesis seminar, May 8 2013.
Crowhurst group – Spring 2013
L to R: Jasmine Finnie, Lusine Simonyan, Jan Maly, Karin Crowhurst,
Madelene Chaaban, Julie Jimenez, Nick Mariduena
Keystone Conference, January 2013
Jan presenting his poster at the Frontiers of NMR in Biology Keystone Conference in Snowbird, Utah.
CSUPERB, January 2013
Madelene and Nick present their poster at 25th annual CSUPERB Symposium in Anaheim, CA.
FALL 2012  
Back (L to R): Lusine Simonyan, Jasmine Finnie, Madelene Chaaban, Julie Jimenez
Front: Nick Mariduena, Jan Maly, Karin Crowhurst, Keen Kim
Running experiments at Scripps, August 2012
These are a few highlight pics of our trip to run NMR experiments at Scripps in August 2012.
You can see us atop the 900 MHz spectrometer, as well as an "action shot" of the titration.
Lab dinner, April 2012
For our lab dinner this semester we went out to Pho So 1.
The food was tasty, and much fun was had by all… we also learned that Jan cannot wink with his right eye…
SPRING 2012  
Left to right: Nick Mariduena, Madelene Chaaban, Keen Kim, Karin Crowhurst, Jan Maly
(with Agnes, our newest lab member, in the background)
FALL 2011  
Left to right: Keen Kim, Madelene Chaaban, Karin Crowhurst, Jan Maly, Omi Patel, Nick Mariduena
Farewell dinner, May 2011  
A small group of us went out with Naveen to have Filipino food for his last farewell dinner.
Will we ever forget those fried intestines….
SPRING 2011  
Left to right: Kevin Tran, Kaveh Vossoughian, Arpine Tarverdyan, Omi Patel,
Jan Maly, Keen Kim, Naveen Battala, Karin Crowhurst, Jessica Weidenbach
CSUPERB 2011  
Jan and Naveen in front of their posters at the CSUPERB Symposium (2011)
FALL 2010  
Back: Naveen Battala, Keen Kim, Kevin Tran, Jan Maly
Front: Jessica Weidenbach, Omi Patel, Karin Crowhurst,
Arpine Tarverdyan, Zhorzheta Topchyan
SPRING 2010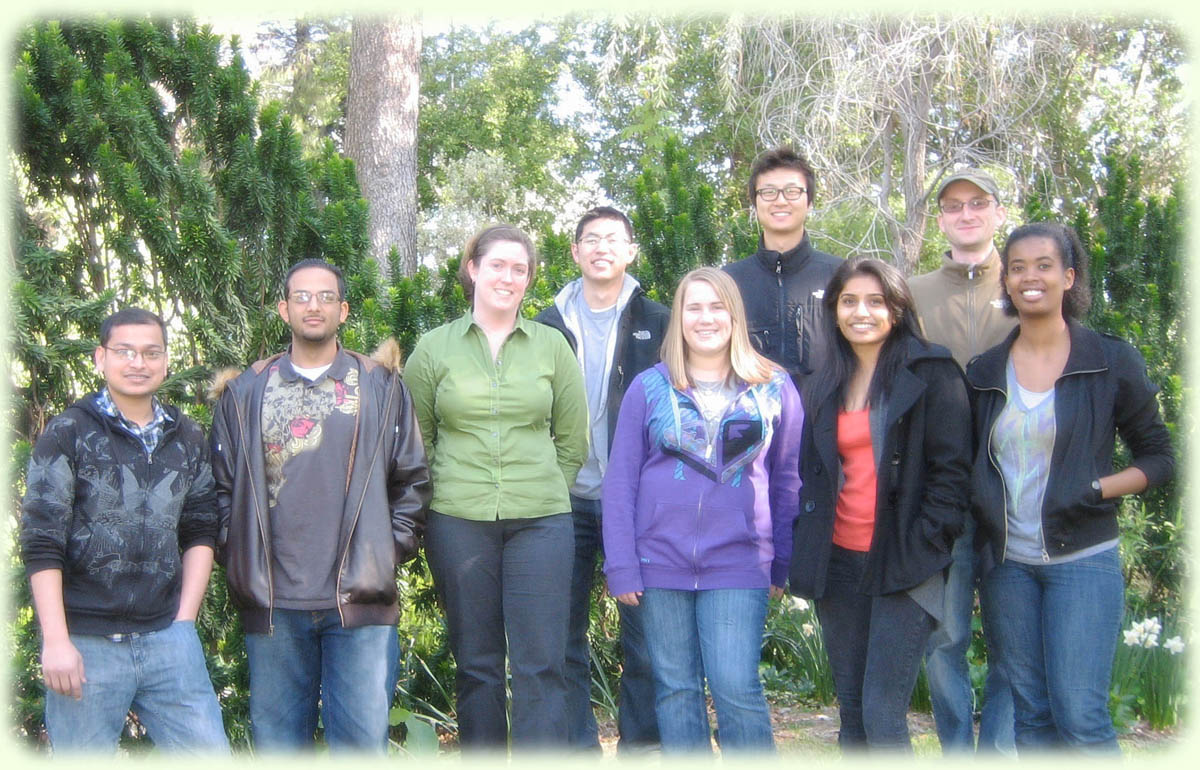 Left to right: Naveen Battala, Daniel Keyvani, Karin Crowhurst, Will Kim,
Jessica Weidenbach, Keen Kim, Omi Patel, Jan Maly, Alem Belachew
FALL 2009  
Left to right: Naveen Battala, Karin Crowhurst, Jessica Weidenbach,
Jan Maly, Omi Patel, Will Kim, Daniel Keyvani
Spring 2009  
Left to right: Karin Crowhurst, Kevin Tran, Will Kim, Tamara Vartanian,
Thomas Schmidt, Greg Bojorquez, Naveen Battala
Graduation 2009  
Thomas wins the Hypercube Award (graduation party, May 2009)
FALL 2008  
Left to right: Naveen Battala, Karin Crowhurst, Kevin Tran, Greg Bojorquez,
Tamara Vartanian, Thomas Schmidt, Oscar Taracena
SPRING 2008  
Left to right: Karin Crowhurst, Thomas Schmidt, Tamara Vartanian,
Keith Stancu, Holly Sanders, Tariq Qureshi
Lab potluck in the park (April 2008)
Lab potluck in the park (April 2008)
FALL 2007  
Left to right: Tamara Vartanian, Tariq Quereshi, Thomas Schmidt,
Keith Stancu, Chris Martinez, Karin Crowhurst